WE ASPIRE TO BE a beacon of liberal faith, strong community, and transformative service, rooted in love.
First Parish Unitarian Universalist Church of Scituate MA is a vibrant, inclusive community of faith. We are a non-credal church stressing love, service, and religious freedom. Grounded in our Unitarian Universalist principles and purposes, we affirm the inherent worth and dignity of every person, and we support each individual's unique search for truth and meaning.

We welcome you, wherever you are in your search for deeper meaning, to join us in exploring "the big questions" and cultivating ways to live the answers amidst today's modern challenges. Our congregation seeks ways to build community, guide our children, deepen spiritually, and to make a positive difference in the world.

We celebrate the interconnectedness of all things.
All are welcome—come as you are!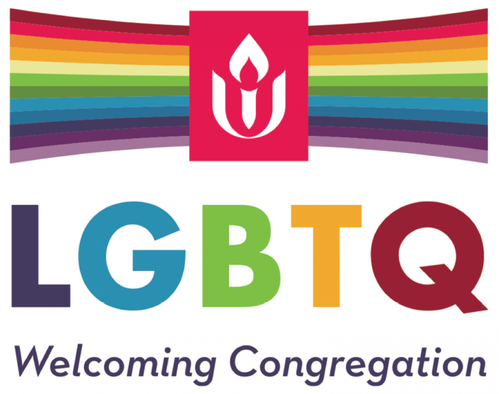 Each of us has worth and dignity. As Unitarian Universalists, we welcome persons of all sexual orientation, gender and its expression, religious background, marital status, family structure, age, mental and physical health and ability, racial and cultural identity or background, and educational and socioeconomic status. We value diversity and see it as a spiritual gift. We work for LGBTQ justice and equity as a core part of who we are. All may share in the fellowship and leadership, blessings and joys of our congregation's life.
All of who you are is sacred.
All of who you are is welcome.
Welcome to First Parish! The Rev. Pamela M. Barz is our minister. Join us for reflection, music, and fellowship, and our thriving youth program. Everyone is welcome. Sunday services with choir are currently remote, held live and interactive via Zoom at 10:30 a.m. Sunday mornings. Each service is followed by a virtual coffeehour.
Sunday, Feb 21 The Broken Pieces
As we reach the one year anniversary of the pandemic shutdown and slowly move towards coming out of it, our worship theme over the next few weeks will focus on healing. The events of the past year have shattered our sense of wholeness – body, mind, and spirit – like a glass vessel fractured into pieces.While we can't - and in some ways don't want - to return to what was, how can we transform our broken pieces into beauty? Beach glass provides our image for this worship series. If you would like some pieces for your worship at home, please let Pamela Barz know. During the story for all ages, everyone will be invited to get out a piece of paper and pencil or crayon.
On this first Sunday, we will look at the broken pieces and the beauty which may build from them. Pamela Barz preaching. Elizabeth Dubuisson will play music by Clif Harden, Enrique Grenados, and J. S. Bach. The choir will sing Now I Walk in Beauty, a traditional Dine prayer set to music by Gregg Smith.
Sunday, Feb 28 Dum Spiro Spero
Our focus on healing continues with a service on Breath. ("Dum Spiro Spero" means "While I breathe, I hope.") Pamela Barz preaching.
The Story for All Ages will include the sheet of paper from last Sunday; if you weren't present for that (or can't find that piece of paper), you're invited to have a clean piece of paper near you.
The First Parish Choir will sing Give Me Wings by Mark Patterson. Elizabeth Dubuisson will play music Page d'Album by Claude Debussy, Back to Life by Giovanni Allevi, and Minuet I from Partita #1 by J.S. Bach. We will also share a video of the General Assembly Choir singing We Are by Ysaye Barnwell.
Sunday, March 7 Committed to Connection
This week we will join the
Towson, MD, Unitarian Universalist Church
so that we experience connection as we talk about it. Since laughter is a powerful healer and connector, the service will include an experience of Yogic Laughter. Pamela Barz and Elizabeth Dubuisson will be joined by Clare Petersberger, minister of the Towson Church, and Tracy Hall, music director of the Towson Church, in leading the service.