WE ASPIRE TO BE a beacon of liberal faith, strong community, and transformative service, rooted in love.
First Parish Unitarian Universalist Church of Scituate MA is a vibrant, inclusive community of faith. We are a non-credal church stressing love, service, and religious freedom. Grounded in our Unitarian Universalist principles and purposes, we affirm the inherent worth and dignity of every person, and we support each individual's unique search for truth and meaning.

Where are you on your spiritual journey? Wherever you are, we're curious to meet you. Join us in exploring "the big questions" and cultivating ways to live the answers amidst today's modern challenges. Our congregation seeks ways to build community, guide our children, deepen spiritually, and to make a positive difference in the world.

We celebrate the interconnectedness of all things.
All are welcome—come as you are!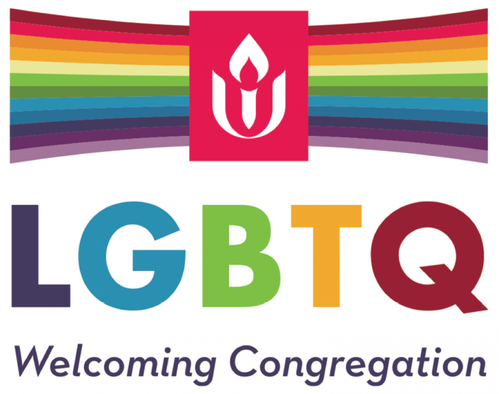 Each of us has worth and dignity. As Unitarian Universalists, we welcome persons of all sexual orientation, gender and its expression, religious background, marital status, family structure, age, mental and physical health and ability, racial and cultural identity or background, and educational and socioeconomic status. We value diversity and see it as a spiritual gift. We work for LGBTQ justice and equity as a core part of who we are. All may share in the fellowship and leadership, blessings and joys of our congregation's life.
All of who you are is sacred.
All of who you are is welcome.
Welcome to First Parish! The Rev. Pamela M. Barz is our minister. Join us for reflection, music, and fellowship — and our thriving youth program. Everyone is welcome. Services are held Sundays at 10:30 am at the rear of the church except in case of rain.
Fall 2021 Update: The First Parish Health Task Force has advised that worship services should remain outdoors for the present when possible. When the weather doesn't permit that, worship services will move indoors to the sanctuary with the windows open, and the congregation is requested to be masked and vaccinated. We will have additional seating set up in the parish hall. On Sundays when we are able to be outdoors, you are invited to stay after for our "Coffee hour" social time and to bring your own beverage and snack if you wish.
Newsletters
Up-to-date links and events
Facebook
Livestream recordings
YouTube channel
Prior recordings
Previous sermons
PDF downloads
Sunday, Oct 24 When You Come Into the Land
Today's story from the Hebrew Scriptures tells of the battle for Jericho and asks us to question how we claim our homelands. Members of the Social Justice Committee will present their proposed Land Acknowledgement and join Pamela Barz in reflecting on our church's history in Scituate. The choir will sing Turn the World Around by Harry Belafonte. Elizabeth Dubuisson will play Joshua Fought the Battle of Jericho, an African American Spiritual, About Strange Lands and People, Kinderszenen #1 by R. Schumann, and Sonatina in A Minor by G.F. Handel (played on the organ).
Sunday, Oct 17 We Covenant
RE participants and those remaining in the service will explore what we know as "The Ten Commandments" but are really a covenant between Yahweh and the Hebrew people. As we too gather around a covenant, what does this ancient one tell us about our own? Pamela Barz preaching. Singer/Songwriter Christina Nordstrom will provide our music for the service.
Sunday, Oct 10 Ask the Animals
Bring your animal companions (leashed or caged, please) to our annual pet blessing service. Members of the congregation, children and adults, will speak about how their pets have helped them to feel gratitude and strength over the past 18 months. If you have a story or reflection you'd like to share in the service, please let Pam know by October 4. The choir will sing We Celebrate the Web of Life, words by Alicia Carpenter.
Sunday, Oct 3 Recipes for Manna
We continue exploring stories from the Hebrew Scriptures this Sunday with the story of the Israelites receiving manna in the desert. How do we find manna in our times and what do we do with it when we find it? Pamela Barz preaching. Elizabeth Dubuisson will play
Autumn Glow
by Martha Mier,
To a Wild Rose
by Edward MacDowell, and
Tollite Hostias
by Camille Saint-Saëns. The choir will sing
Source of Peace
by Scott Kearns.
***
Cradles to Crayons
Clothing Drive: Donations of new and gently used children's clothing that is wrapped in a bag or plastic would be appreciated. Please bring your donations to the church service. ***