WE ASPIRE TO BE a beacon of liberal faith, strong community, and transformative service, rooted in love.
First Parish Unitarian Universalist Church of Scituate MA is a vibrant, inclusive community of faith. We are a non-credal church stressing love, service, and religious freedom. Grounded in our Unitarian Universalist principles and purposes, we affirm the inherent worth and dignity of every person, and we support each individual's unique search for truth and meaning.

Where are you on your spiritual journey? Wherever you are, we're curious to meet you. Join us in exploring "the big questions" and cultivating ways to live the answers amidst today's modern challenges. Our congregation seeks ways to build community, guide our children, deepen spiritually, and to make a positive difference in the world.

We celebrate the interconnectedness of all things.
All are welcome—come as you are!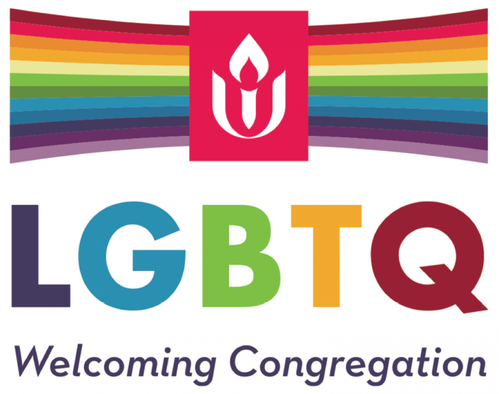 Each of us has worth and dignity. As Unitarian Universalists, we welcome persons of all sexual orientation, gender and its expression, religious background, marital status, family structure, age, mental and physical health and ability, racial and cultural identity or background, and educational and socioeconomic status. We value diversity and see it as a spiritual gift. We work for LGBTQ justice and equity as a core part of who we are. All may share in the fellowship and leadership, blessings and joys of our congregation's life.
All of who you are is sacred.
All of who you are is welcome.
Welcome to First Parish! The Rev. Pamela M. Barz is our minister. Join us for reflection, music, and fellowship, and our thriving youth program. Everyone is welcome. Sunday services with choir are currently remote, held live and interactive via Zoom at 10:30 a.m. Sunday mornings. Each service is followed by a virtual coffeehour.
Sundays July 11 - Sept. 5 (9 a.m.) Summer Worship: Playful Spirits
Summer services will be outdoors at the church (check newsletter for confirmation). They will involve movement and art, so children are very welcome.
The authors of
Spiritual Literacy
, Mary Ann and Frederic Brussat, wrote, "Play is the exuberant expression of our being. It is at the heart of our creativity, our sexuality, and our most carefree moments of devotion. It helps us to live with absurdity, paradox, and mystery. It feeds our joy and wonder. It keeps our search for meaning down to earth." And June Maffin, author of
Soulistry
, reflected, "When we play, we leave behind the daily stressors and allow our spirit to breathe and re-create."
After 15 months of grief and worry, of isolation and anger, we need to play. So - this summer, our worship offers different ways to play. Our summer worship team offers this focus not to turn us away from the suffering around us, but to help us replenish ourselves in body, mind, and spirit, so that we can continue to engage with the needs around us.
July 11: Wandering/Wondering Brian Sutton will offer a mindfulness practice for mind-wanderers that emphasizes wandering and spaciousness over concentration and focus - and a bonus practice, "Contemplación del Chocolate!"
July 18: Drumming Circle Elizabeth Dubuisson will lead the congregation in a drumming/instrument circle. People of all ages are invited to experience the power of making rhythm together and create a collective voice as we get in tune with each other and ourselves. There will be instruments provided but feel free to bring your own drum or rhythm instrument.
July 25: Marshmallow Connections Play can help us focus inward, rejoice in the natural world, and bring people together. This Sunday, Pamela Barz, Chuck, Oliver, and Miles Jones will offer play with marshmallow and toothpick challenges, connecting them to connect with one another and get to know one another better.
Aug 1: Heart Rocks **Meet at Egypt Beach** Lin Haire-Sargeant and Melissa Wakeman will lead a meditative beach walk focusing on the beauty of the stones.
Aug 8: Meet You on the Playground Bring your favorite outside game or join in on those provided at the church.
August 15: Art and Play Color your spirit with sidewalk chalk, painting, and other art experiments.
August 22 Sing Along With Howard In tune with our summer theme, guitarist and singer Howard Mathews says, "Music is always play for me." In fact, the quote on his big song playbook reads "What Would Life Be Without Music to Make Our Souls Dance?" Howard will accompany and lead a circle sing-along with familiar songs.
Sunday, June 27 Until Love Wins
ONLINE WORSHIP This morning on Zoom we'll join with Unitarian Universalists from around the country to participate in the Sunday morning worship from General Assembly. Recognizing the importance of shared ministry and the many innovative approaches to worship created by congregations during the pandemic, UUA President Rev. Dr. Susan Frederick Gray selected the First Universalist Church of Minneapolis to serve as worship leaders for this year's GA Sunday Morning Service.
Today's challenging times require a nimble and resilient spirituality. We need a demanding, inspiring faith and a love strong enough that it will not let us go. Join us as we draw the circle wide, gather our strength, and promise to stay in the struggle and joy until love wins.
Patty Sutton will host our gathering to watch the service together and then reflect on its themes.
IN-PERSON OUTDOOR WORSHIP "It matters what we believe," wrote UU educator Sophia Lyon Fahs. Our religious education program for children and youth culminates in "Coming of Age," when our young people reflect on what they've learned over the years and what beliefs they have formed. This morning we will celebrate our current Coming of Age group, hear their Credo statements and give them UU chalice necklaces.
Sunday, June 6 Here All Belong
IN-PERSON OUTDOOR WORSHIP As Unitarian Universalists, we believe in original goodness and in an ethic of love. Out of these beliefs come all our work for justice and inclusion, including our welcome of LGBTQ people back when other religious traditions were not so welcoming. In 1990 the UUA launched the Welcoming Congregation program and in 2009 First Parish completed the certification process. To celebrate, Claire Sherman made a rainbow banner which was wrapped around our building. This year to celebrate Pride month, we will again wrap our building in the banner. During this service, members of our congregation will reflect on what it means to them to be part of this tradition of radical welcome.