WE ASPIRE TO BE a beacon of liberal faith, strong community, and transformative service, rooted in love.
First Parish Unitarian Universalist Church of Scituate MA is a vibrant, inclusive community of faith. We are a non-credal church stressing love, service, and religious freedom. Grounded in our Unitarian Universalist principles and purposes, we affirm the inherent worth and dignity of every person, and we support each individual's unique search for truth and meaning.

Where are you on your spiritual journey? Wherever you are, we're curious to meet you. Join us in exploring "the big questions" and cultivating ways to live the answers amidst today's modern challenges. Our congregation seeks ways to build community, guide our children, deepen spiritually, and to make a positive difference in the world.

We celebrate the interconnectedness of all things.
All are welcome—come as you are!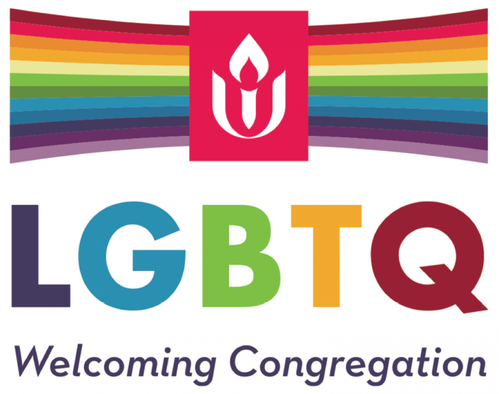 Each of us has worth and dignity. As Unitarian Universalists, we welcome persons of all sexual orientation, gender and its expression, religious background, marital status, family structure, age, mental and physical health and ability, racial and cultural identity or background, and educational and socioeconomic status. We value diversity and see it as a spiritual gift. We work for LGBTQ justice and equity as a core part of who we are. All may share in the fellowship and leadership, blessings and joys of our congregation's life.
All of who you are is sacred.
All of who you are is welcome.
Welcome to First Parish! The Rev. Pamela M. Barz is our minister. Join us for reflection, music, and fellowship — and our thriving youth program. Everyone is welcome. Services are held Sundays at 10:30 am.
Worship services will be MASK OPTIONAL starting April 3. We believe that current health data, easing of restrictions in the state and in Scituate, and the arrival of warmer weather (think open windows and doors), means that we can safely gather without masks. Of course, anyone who wishes to continue masking is certainly welcome to do so. We will continue to make masks available at the church.


Newsletters
Up-to-date links and events
Facebook
Livestream recordings
YouTube channel
Prior recordings
Previous sermons
PDF downloads
The annual SPRING FAIR
Saturday, May 14 (9am - 1pm)

Our annual PLANT SALE features organic tomato and veggie seedlings grown by our own church members, as well as herbs, annuals, and lots of perennials. We also offer potted perennials divided from our gardens.

Also bring home delicious preserves and pickles from Grandma's Cupboard, and browse our vintage jewelry display and funky yard sale!
Including....KAY SHAW ART SALE: A curated selection of reasonably priced watercolors, oil paintings, sketches, and prints (both framed and unframed) from respected local artist Kay Shaw, one of the founding members of the Scituate Arts Association. Primarily a plein air painter, Kay paints subjects ranging from the Caribbean to the Jersey Shore, to our own Scituate harbor. Her watercolors are all rendered with Kay's characteristic mastery of light and color. Kay Shaw studied art at Skidmore College and Boston Museum School. She is a member of the Plymouth Guild, North River Arts Society, Scituate Arts Association, and the South Shore Art Center where she exhibits and demonstrates.
Sunday, May 29 The Sorrow of War
On Memorial Day weekend we remember all U. S. military who have died in war, as well as soldiers of other countries. If you would like to have someone remembered who died serving in the military, please give their name to Pamela Barz.
Sunday, May 22 Growing Spiritual Redwoods
This Sunday we will celebrate all who have participated in our religious education program this past year, recognize those who have completed OWL ("Our Whole Lives"), and offer gifts and good wishes to our graduating seniors. We will also thank Eileen Knight for her ministry with us over the past three years as she moves on to focus on her tailoring business. Pamela Barz preaching.
Sunday, May 15 Annual Meeting Sunday
In the life of our church, the Sunday of the Annual Meeting is up there with holy days like Christmas and Easter. On this day, we celebrate that together we set the course for our church and together we make that journey. Pamela Barz preaching.
Sunday, May 8 Becoming Real
In honor of the 100th anniversary of the publication of The Velveteen Rabbit (or How Toys Become Real) by Margery Williams, Pamela Barz will reflect on how human beings become real. Adults and children are invited to bring their cherished, worn, "real" stuffed animals to share in this service.
Sunday, May 1 Times Thick and Thin
May 1st marks the traditional springtime celebration of Beltaine and in honor of that, guest preacher the Reverend Dr. Kelly Murphy Mason will preach a sermon on the timely insights proffered us by Celtic Spirituality. How can we enter into the seasons of our lives as fully as possible, recognizing what can flourish within and all around us? Irish saints and scholars, poets and philosophers all have considerable wisdom to share with us as we consider that question today.
—The Reverend Dr. Kelly Murphy Mason is an experienced educator, licensed psychotherapist (LICSW), and Unitarian Universalist minister who offers Spiritual Direction to individuals, groups, organizations, and communities. She has served in a number of community and congregational settings throughout New York and New England since her ordination to ministry in 2006