WE ASPIRE TO BE a beacon of liberal faith, strong community, and transformative service, rooted in love.
First Parish Unitarian Universalist Church of Scituate MA is a vibrant, inclusive community of faith. We are a non-credal church stressing love, service, and religious freedom. Grounded in our Unitarian Universalist principles and purposes, we affirm the inherent worth and dignity of every person, and we support each individual's unique search for truth and meaning.

Where are you on your spiritual journey? Wherever you are, we're curious to meet you. Join us in exploring "the big questions" and cultivating ways to live the answers amidst today's modern challenges. Our congregation seeks ways to build community, guide our children, deepen spiritually, and to make a positive difference in the world.

We celebrate the interconnectedness of all things.
All are welcome—come as you are!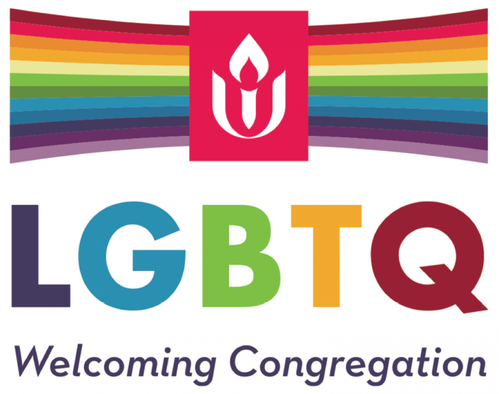 Each of us has worth and dignity. As Unitarian Universalists, we welcome persons of all sexual orientation, gender and its expression, religious background, marital status, family structure, age, mental and physical health and ability, racial and cultural identity or background, and educational and socioeconomic status. We value diversity and see it as a spiritual gift. We work for LGBTQ justice and equity as a core part of who we are. All may share in the fellowship and leadership, blessings and joys of our congregation's life.
All of who you are is sacred.
All of who you are is welcome.
Welcome to First Parish! The Rev. Pamela M. Barz is our minister. Join us for reflection, music, and fellowship, and our thriving youth program. Everyone is welcome. Sunday services with choir are currently remote, held live and interactive via Zoom at 10:30 a.m. Sunday mornings. Each service is followed by a virtual coffeehour.
Sunday, May 9 Loved Into Being
ONLINE WORSHIP For this Mothers' Day Sunday, we will celebrate the Love from which we all come, sharing in a UUA worship service with a sermon by the Rev. Ms. Susan Frederick-Gray, UUA President, as well as vibrant music, storytelling, and other worship elements that will help us to grow in spirit, in courage, and in generosity.
Sunday, May 2 A Spiral Dance
IN-PERSON OUTDOOR WORSHIP We often quote Martin Luther King, Jr., quoting Unitarian minister Theodore Parker: "The arc of the moral universe is long, but it bends toward justice." But is this linear approach helpful? What if the moral universe is a spiral, not an arc? The choir will sing Siyahamba. Pamela Barz preaching.
Earth Day: Sunday, April 25 Pathways to Healing & Regeneration
ONLINE WORSHIP
In our online worship this morning we will participate in a service led by members of the
UU Ministry for Earth
and the Rev. Ms. Yadenee Hailu, community minister for
blk earth
. They ask us: "When you imagine pathways to personal, social and ecological healing and regeneration, what do you see? Who is with you on your journey? What transforms and gives way to new beginnings? Who and/or what are you accountable to along the way?"
On Saturday May 1 we will put out care for the Earth into practice by participating as a church in Scituate's Ship-Shape Day.
Sunday, April 18 Dancing Sure - in-person outdoor worship
Sometimes we feel we can't dance because we don't know the steps to follow. That's when it's helpful to focus on our teachers. Who are some of the people who inspire you to dance your vision and your values? You are welcome to print out a picture of someone current or historical who inspires you to include in our clothesline display.
Easter Sunday, April 4 The Lion or the Dancers?
Our Easter celebration will include music of the season by Beth and the Choir, accompanied by Beverly Reilly on flute and a reflection from Pam on the power of resurrection. If the weather permits, we will gather outside at the church for this service; there will be more information here and in next week's newsletter.
Sunday, March 28 In Every Generation - A Zoom Seder
The Jewish festival of Passover begins on Saturday March 27. This morning we will re-tell the story of the liberation their liberation from slavery, remember our own liberations, and all the liberation still needed. You are invited to gather at your table as Pam and Beth will be leading this service from their own tables. You will find a copy of the Haggadah narrative
here
. You may find it helpful to have it open during the seder on a separate device or to print it out.