WE ASPIRE TO BE a beacon of liberal faith, strong community, and transformative service, rooted in love.
First Parish Unitarian Universalist Church of Scituate MA is a vibrant, inclusive community of faith. We are a non-credal church stressing love, service, and religious freedom. Grounded in our Unitarian Universalist principles and purposes, we affirm the inherent worth and dignity of every person, and we support each individual's unique search for truth and meaning.

Where are you on your spiritual journey? Wherever you are, we're curious to meet you. Join us in exploring "the big questions" and cultivating ways to live the answers amidst today's modern challenges. Our congregation seeks ways to build community, guide our children, deepen spiritually, and to make a positive difference in the world.

We celebrate the interconnectedness of all things.
All are welcome—come as you are!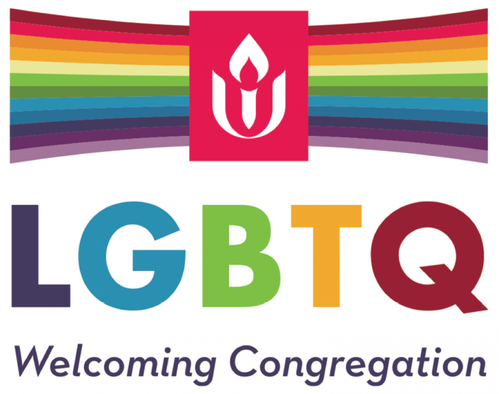 Each of us has worth and dignity. As Unitarian Universalists, we welcome persons of all sexual orientation, gender and its expression, religious background, marital status, family structure, age, mental and physical health and ability, racial and cultural identity or background, and educational and socioeconomic status. We value diversity and see it as a spiritual gift. We work for LGBTQ justice and equity as a core part of who we are. All may share in the fellowship and leadership, blessings and joys of our congregation's life.
All of who you are is sacred.
All of who you are is welcome.
Welcome to First Parish! The Rev. Pamela M. Barz is our minister. Join us for reflection, music, and fellowship — and our thriving youth program. Everyone is welcome. Services are held Sundays at 10:30 am.
Worship services will be MASK OPTIONAL starting April 3. We believe that current health data, easing of restrictions in the state and in Scituate, and the arrival of warmer weather (think open windows and doors), means that we can safely gather without masks. Of course, anyone who wishes to continue masking is certainly welcome to do so. We will continue to make masks available at the church.


Newsletters
Up-to-date links and events
Facebook
Livestream recordings
YouTube channel
Prior recordings
Previous sermons
PDF downloads
Organizing Assembly for June march on DC
UU Rally & Poor People's Campaign
June 2 at noon (FB livestream) [LINK WILL BE POSTED HERE]
Join the UUA Poor People's Campaign Leadership Council and UU leaders from around the country to organize for June 18. "Before the Covid-19 pandemic, 700 people a day died from poverty in the U.S. We know even more people are dying now, magnified by policy decisions to neglect and ignore the cries of the poor. We are going to Washington DC on June 18th declaring "everybody's got a right to live." As we head into the midterm elections it is vital that each of our movements and religious traditions come together to join the fusion movement for a June gathering to raise our demands and show our power." —UUA Poor People's Campaign Leadership Council
Sunday, June 26 UUA General Assembly Worship
Our UUA General Assembly culminates today in the biggest UU worship service of each year. Because GA is in Portland, Oregon, this year, the service will be broadcast at 12:30 ET. So rather than gather in person to watch it at the church, we'll set up a Zoom meeting to stream the service and watch it together. Learn more about the service and its leaders
here.
Sunday, June 19 Slavery in Scituate
On Juneteenth, Pamela Barz will be joined by some church members in reflecting on the legacy of slavery in our community.
Sunday, June 12 We Are The Rainbow
In our annual Pride Sunday celebration, we will bring together art, music, poetry, and parades to bless us in all our beautiful diversity and to remember the welcome which still needs to be offered.
This Pentecost Sunday we remember the story of Pentecost and the way the Spirit still burns within each of us and this community. Pamela Barz preaching. It is traditional to wear flame colors - red, orange, yellow - on Pentecost Sunday.
Sunday, May 29 Lament & Hope
This Memorial Day weekend as we do annually, we will name and honor the members of the U.S. military killed since last Memorial Day. But this year, as we mourn the victims of mass shootings in Uvalde and Buffalo, we will also remember those who have been killed in the U.S. in mass shootings since last Memorial Day. We will express our grief through lighting candles, weaving, drawing, and singing our prayers.