WE ASPIRE TO BE a beacon of liberal faith, strong community, and transformative service, rooted in love.
First Parish Unitarian Universalist Church of Scituate MA is a vibrant, inclusive community of faith. We are a non-credal church stressing love, service, and religious freedom. Grounded in our Unitarian Universalist principles and purposes, we affirm the inherent worth and dignity of every person, and we support each individual's unique search for truth and meaning.

Where are you on your spiritual journey? Wherever you are, we're curious to meet you. Join us in exploring "the big questions" and cultivating ways to live the answers amidst today's modern challenges. Our congregation seeks ways to build community, guide our children, deepen spiritually, and to make a positive difference in the world.

We celebrate the interconnectedness of all things.
All are welcome—come as you are!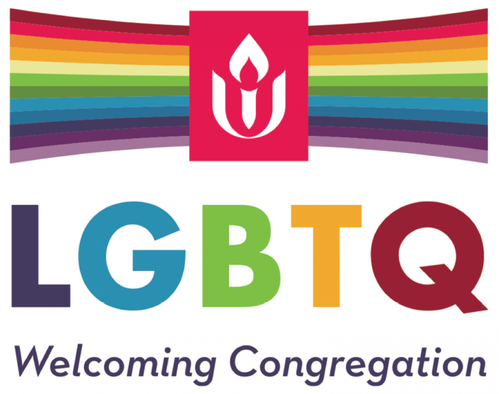 Each of us has worth and dignity. As Unitarian Universalists, we welcome persons of all sexual orientation, gender and its expression, religious background, marital status, family structure, age, mental and physical health and ability, racial and cultural identity or background, and educational and socioeconomic status. We value diversity and see it as a spiritual gift. We work for LGBTQ justice and equity as a core part of who we are. All may share in the fellowship and leadership, blessings and joys of our congregation's life.
All of who you are is sacred.
All of who you are is welcome.
Welcome to First Parish! The Rev. Pamela M. Barz is our minister. Join us for reflection, music, and fellowship — and our thriving youth program. Everyone is welcome. Services are held Sundays at 10:30 am at the rear of the church except in case of rain.
Nov. 2021 Update: The First Parish Health Task Force has advised that worship services may resume indoors. Worship services will be held in the sanctuary with the windows open, and the congregation is requested to be masked and vaccinated. The pews are marked to allow for distancing, and we have additional seating set up in the parish hall.
Newsletters
Up-to-date links and events
Facebook
Livestream recordings
YouTube channel
Prior recordings
Previous sermons
PDF downloads
Sunday, Dec 5 How the Shepherds Made Room
Our Advent worship series "The Inn: Making Room for the Holy" continues with the story of the shepherds keeping watch over their flocks and how making room for the holy changed their lives and could change our own. Pamela Barz will preach and lead a children's conversation using the large box again. Children will bring in the Advent candle of Peace and lead us in lighting the menorah for the 7th night of Hanukkah.
Elizabeth Dubuisson will play The Snow Lay on the Ground arranged by James Denton, and Gentle Mary Laid her Child arranged by James Southbridge. The choir will sing More Than Welcome Here by Bryan Sirchio and Richard Bruxvoort Colligan.
Sunday, Nov 28 Making Room
On this first Sunday in Advent, we begin a new worship series "The Inn: Making Room for the Holy." The pandemic has laid bare, and widened, economic disparity locally and globally. In this season, we will imagine how our church can become a house where the Holy will be born anew.  On this first Sunday, Pamela will preach on making room for hope and we will light the first Advent candle of hope.
Sunday, Nov 21 And it Was Good
Our 'Courage' series on stories from the Hebrew Scriptures ends this Sunday with the story of the creation of the Earth and its inhabitants from Genesis 1. As we observe Thanksgiving, Pamela will reflect on what that story says to us as we work to preserve the Earth and its inhabitants. Jane will offer readings from Braiding Sweetgrass: Indigenous Wisdom, Scientific Knowledge, and the Teachings of Plants by Robin Wall Kimmerer.
After the service, we will decorate the sanctuary for Advent.