First Parish Land Acknowledgement
The ability to gather, worship, learn, and establish our presence as a church came at a great expense to the original inhabitants of this land.
A Land Acknowledgement is a formal statement that recognizes the Indigenous Peoples that were the traditional custodians of a particular area. Land Acknowledgement is a powerful way of showing respect and is a step toward correcting the stories and practices that erase the history and culture of Indigenous Peoples. It acknowledges the history and legacy of colonialism that impacted these people, their practices, and their land. It is a step toward honoring the truth. The ability to gather, worship, learn, and establish our presence as a church came at a great expense to the original inhabitants of this land.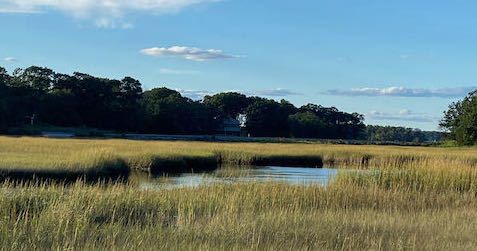 Let us acknowledge with respect and admiration the Massachusett and the Wampanoag peoples, the traditional custodians of the land on which we are meeting today.
Let us recognize that they lived here and cared for this land over countless generations.
Let us remember that this land was stolen from them by European settlers.
Let us honor the resilience of the Indigenous Peoples who continue to live in this region despite the legacy of colonialism that still impacts them and this land.
Let us strive to increase our understanding and celebrate the continuing contributions of Native Peoples to the life of this region.
Let us accept that we borrow the earth from our children and work to become better stewards of it.
This acknowledgement is a draft as of October 2021
According to the website of the Plimoth Patuxet Museums, it is estimated that, before 1616, there were 50,000 to 100,000 Wampanoag People in about 67 different villages in the Wampanoag territory which included what is now southeastern Massachusetts and eastern Rhode Island. Between 1616 and 1618, a devastating series of epidemics, caused by diseases probably carried by European explorers and traders, caused the deaths of many thousands of Wampanoag, greatly reducing the population. This period is known as the Great Dying. The Puritan Separatists who arrived on the Mayflower in 1620 constructed their settlement on the remains of the Wampanoag village of Patuxet, which they found abandoned because the villagers had died in a recent epidemic.
In an article in the Scituate Mariner in August 1993, Jared FitzGerald wrote about the final treaty between the chief of the Mattakeesett tribe and the Conihasset partners in 1653. Chief Josias Wampatuck signed a treaty with Timothy Hatherly, James Cudworth, Joseph Tilden, Humphrey Turner, William Hatch, John Hoar, and James Torrey transferring to them land that includes the northern section of present-day Marshfield and all of present-day Scituate, Hanover, and Norwell. The Mattakeesetts received 14 pounds as payment for this land from the Conihasset partners who were the founding members of First Parish Church.
The alliance between the Pilgrims and Wampanoags, which provided a small measure of protection for the Wampanoags against their rivals the Narragansett, lasted for 50 years, ending with King Philip's War in 1675-76. According to History.com, by the end of the war, thousands of Indigenous Peoples were killed, wounded, or captured and sold into slavery or indentured servitude. Major James Cudworth, another founding member of First Parish Church, was commander of the Plymouth forces during King Philip's War. The war decimated the Wampanoag, Narragansett, and many smaller tribes and mostly ended Indian resistance in southern New England, paving the way for additional English settlements.
Today there are about four to five thousand Wampanoag (with some sources estimating the number as high as 12,000). Most of these are descendants of Wampanoag who were Christianized by English settlers beginning in the mid-17th century. Most Wampanoag today live in Massachusetts where there are two federally acknowledged tribes, the Aquinnah Wampanoag and the Mashpee Wampanoag, as well as several smaller bands in areas like Herring Pond, Assonet, and Manomet. There are also Wampanoag People living today in the Caribbean islands who are likely descendants of those who were sent into slavery both before and after King Philip's War.
The people of the Massachusett Tribe at Ponkapoag are the descendents of the Neponset band of the Massachusett who were led by Josias Wampatuck and before him by his father the Great Sac'hem, Chickataubut. Ponkapoag Plantation was a 6,000-acre parcel located in present-day Canton. It was established in 1657 by the Massachusetts Bay Colony as the second of fourteen "Praying Indian Towns" that were designed to separate Christianized indigenous populations from those who had not been converted to Christianity. Those living in the Praying Towns were forced to adopt Puritan beliefs and ways of life, and to abandon their own language, customs, and religion.
The Massachusett at Ponkapoag have continued to survive and maintain their oral tradition of storytelling whereby they pass on their traditional view of how the world works, their relationship with nature, and why things are the way they are. They are governed by two branches of tribal government, a tribal council consisting of traditional leaders, elders, and representatives of the families on their tribal rolls, and an elected corporate board of directors who govern business and financial affairs.
The Social Justice Team of First Parish Unitarian Universalist Church of Scituate has compiled this history from a variety of sources. We acknowledge the following:
Our understanding of history evolves and expands as we consult additional sources of information.
Non-native people in current-day New England have been mostly taught a Euro-centric version of the history of the arrival of Europeans here.
It is important to consult native sources to unlearn Euro-centric mythology and to understand the true history of this region.
European settlers inflicted actual and cultural genocide on the Indigenous Peoples with the intent of eradicating them, their culture, their language, their religion, and their history. Luckily, they were not successful. Several tribes exist in Massachusetts, including tribes that identify as Wampanoag, Massachusett, and Nipmuc. Because the damage was so early and so severe, most of these tribes do not qualify for recognition at the federal or even the state level. Nevertheless they exist, and we should strive to educate ourselves about them — their past, present, and future.
The Social Justice Team of First Parish Unitarian Universalist Church of Scituate urges you to consider adopting a personal land acknowledgment to use in your own spiritual, volunteer, and professional practices. We encourage you to seek inspiration through reading about Indigenous People and issues, and especially by listening to indigenous voices. We hope that these steps will inspire you to action including advocacy, acts of service, and donations in support of local Indigenous Peoples and the causes that are important to them and to all of us.